First of all, in spite of the little crazy episode I had with myself this morning (which prompted me to head to the bakery – bought 5 different kinds of crabmeat buns + a chocolate donut, ate ALL in 2 hours while watching Grounded For Life, The Casino and yes, Oprah), I received my result transcript from college. Guess what…I got FIRST CLASS for accounting. I repeat, first bloody class. I am speechless and I am almost sure that they must have made a mistake (though I definitely am not complaining). Anyone who has been reading my blog would know I am incredibly bummed when it comes to accounting (read here, here, here and here) and I skipped almost every class last year. So what can I deduce from this? Well…firstly, I am a genius and secondly, I am invincible.
I'm happy and giddy again.
Lets hop over to our next subject – Jaime's birthday. You could read about it from ST's blog. My most memorable things about it were the sinfully delicious kiwi cake and the angmoh who was stuck in the 80s. He was awfully hilarious (read: squinching his skinny butt and pirouetting incessantly). Oh yeah, and I love the new bras I bought for Chinese New Year.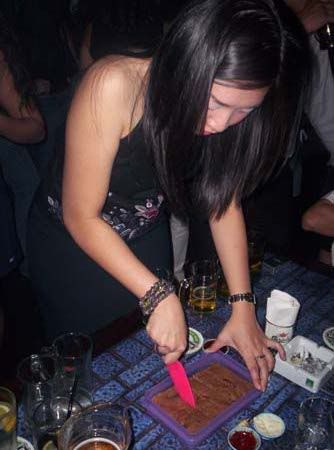 Jaime cutting the cake I made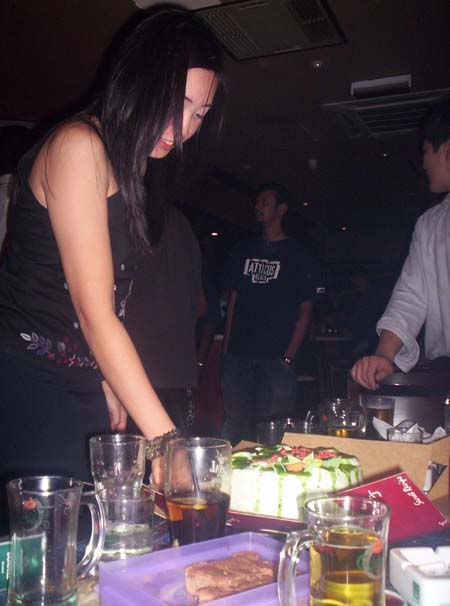 Jaime cutting the out-of-this-world kiwi cake.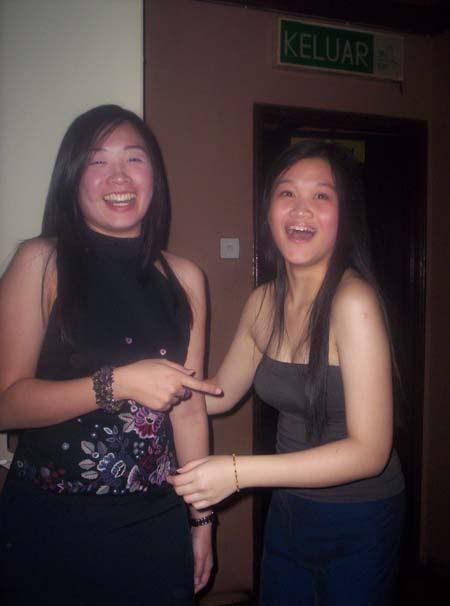 Self-explanatory. I'm officially perfect.
Now on to Zoukfest. I would say it's not bad for my first rave. I wasn't actually tipsy (Okay, I do hate beer and every other kinds of alcoholic beverages except Jolly Shandy and gin & juice – why the latter didn't come through I don't know :C ) so those music became quite annoying and monotonous after an hour. FA and I scurried off to Ghetto Heaven where we danced behind the stage, right at the entrance to main arena (probably annoying the cops). After 5 songs, I was collapsing but FA was still dancing, 3 times the speed of everyone else…Energizer bunny!!!! OMG if only you were a boy, we could hump up a storm…I LOVE YOUUUUUUU FA!!!! Read ST's account on it. I'm just going to rip some pictures from his camera. Oh and btw, my jacket is a genuine Nike and even IF it looked like some Chinese immigrant getup (which it doesn't! it's VINTAGE = classy, ok!) it's still a NIKE and it cost me almost RM200, ok? Don't hate me coz I'm beautiful…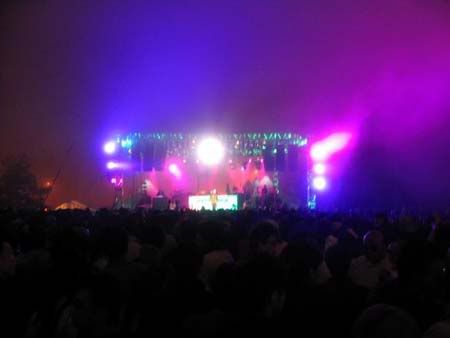 At the main room – I think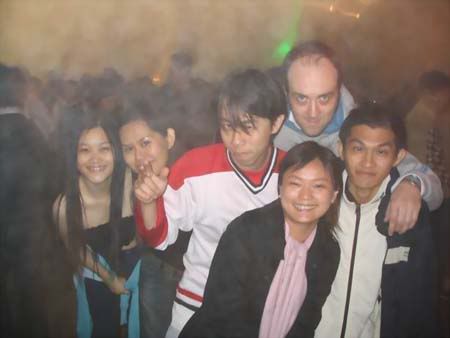 Clockwise from left: Me, Audrey, KY, ST, Great Faggot and Saint.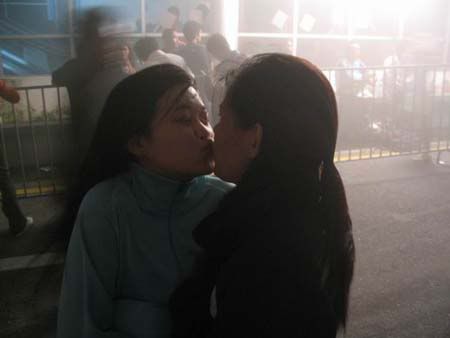 So cold I had to get cosy with Aud.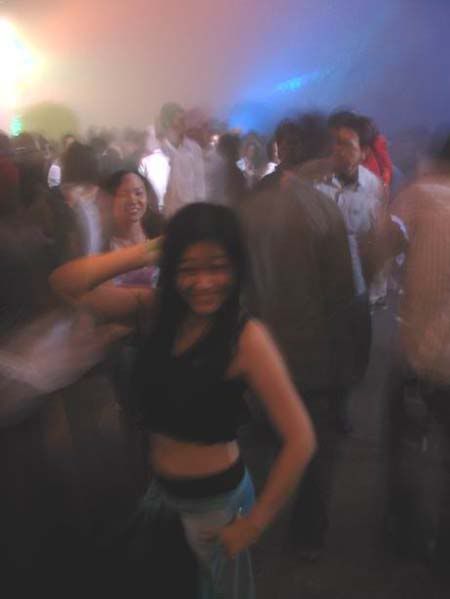 Freezing to death but had to take a few un-bakchang pictures
And on to Joey's wedding. She was really beautiful and Vincent was glowing as well. By the end of the dinner, Vincent's pissed and was speaking in Italian. He also said something alone the line of, "Don't worry I can still light my candle tonight". Food was mediocre at best and the air-con was kind of whacked, but the point of wedding dinners is to celebrate a happy union so I ain't going to talk negatively about it (which sadly, seems rather popular among fellow chinese nowadays). Not going to pile on any bad karma now, would I? Pictures soon.