We went to have seafood (again!) for an early Father's Day dinner. Don't want to fight with the crowd next week. It's the same place again at Teluk Gong. I think we're going to go there very often, it's seriously cheap and good. And I like the atmosphere, cause it's a huge place and the tables are quite far from each other.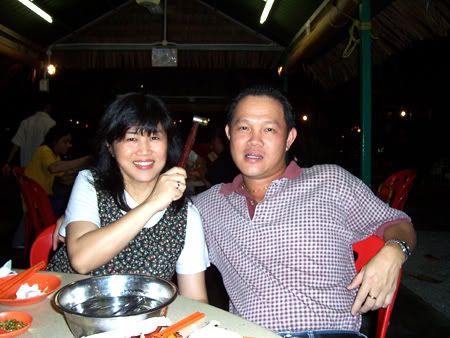 Mom and Dad. So cute!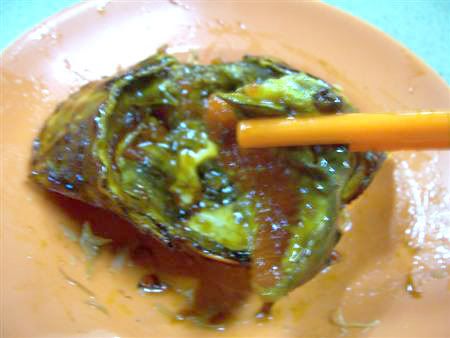 Why I might die young.
There was a table next to ours. A group of well-dressed, old, fat and ugly chinese men with horribly dressed, pretty, young and slim Chinese girls for partners. I didn't mean to eavesdrop but they talked really loud, as if they feared other people wouldn't hear them. The men's conversation was filled with boastfulness, sexist remarks and stupid suggestions. To rub salt to injury, the ladies were looking at their respective partner with their chinky doe eyes and the sweetest smiles. Plain disgusting.
I'm pretty sure they see nothing in those men except for dollar signs. I've always believed in one thing, men who buy affection with money have fundamentally weak characters. Men always try to justify it, usually blaming dignified women in the process. Please… if you're rich, contribute to charity. If you're hopeless in love, celibate (or contact Palmela Handerson). If you're going through a mid-life crisis, just buy a fucking car. There's no need to buy sex from nubile girls and then boast of your prowess to your equally low friends.
Then again, I am not against prostitution because I understand that however I want it to be, there exists the power of supply and demand. Because there are men who are characteristically flawed. Because there are people who like the easy way out. Because there are people who enjoy acquiring intangibles with money. Because there are people who might consider incest. It's sad really, but c'est la vie.