Am glad Monday is almost over. I'm in sort of fit craving over my own nasi goreng cincaluk (rice fried with fermented shrimp sauce) though. Not trying to lift my own basket, but they're SO GAWD DAMN GOOD. Already whacked 2 plates of them. Bedtime seems rather far fetched now.
Regarding my previous post, I might just have the explanation for it. My granny's home-grown bird's eye chillies! And yeah, I chucked some into my nasi goreng just now :P
Last Friday, I had banana leaf rice (again) at Bukit Gasing, quite possibly the best in KL. So many were there, including, ST, KY, Jo and God. The owner was quite a funny fella, performing tricks and giving motivational speech (yawns). Galvin was our hero that day. He made a bet with the owner, that if he could cut the banana leaf with a ciggarette, drinks would be on the house. Needless to say, he won and we got our free drinks.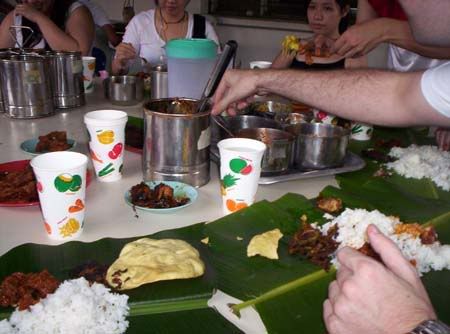 Doesn't look as fantastic cause I was too busy eating than taking more pics :P
Then we went to Ikano to chill and I had Lecka Lecka (again). It's officially my favourite place for a sugar fix. Can you believe it's 99.9% fat free? They taste nothing like fat free. And can you believe that it's only about half the price of Haagen Daaz? OMG. I want to have some gelato tomorrow.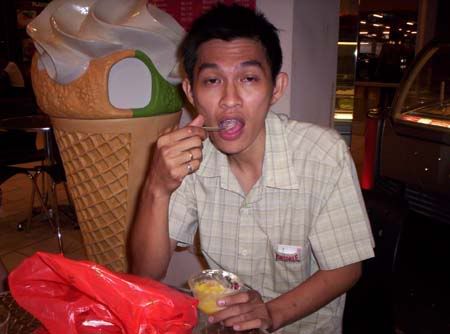 The Great Faggot enjoying (actually struggling to finish) his dessert.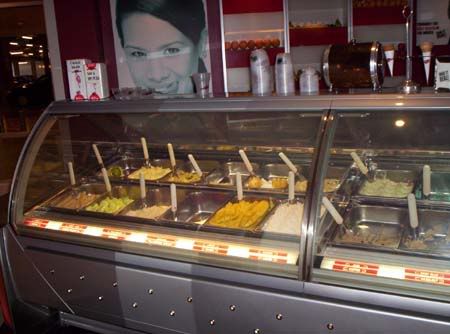 I want to work here.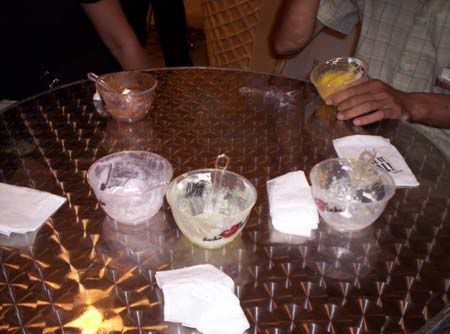 Contemplating another pop.
After the sweets, we just hung around and I witnessed a really muhibbah activity going on. Rather poster worthy too.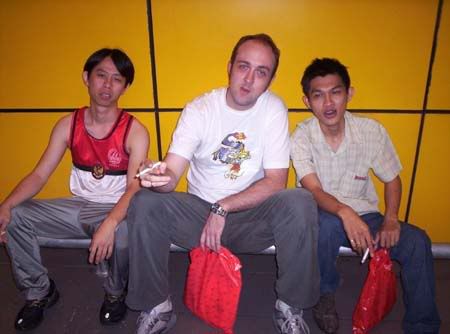 Multi-racial *Kutu Lepaks – Cina, Mat Salleh and Baba.
Had dinner at New Paris in SS2. Oh my gawd, it's seriously faster than any fast food joint in Malaysia. How fast? How about 5 relatively complicated chinese dishes in less than 5 minutes? And the place was seriously packed. Food was quite good, but omg..were they FAST!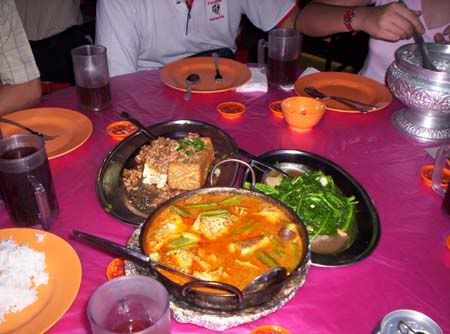 Clockwise from top: Tofu with minced pork, Stir-fried vege, Asam fish. Claypot pork with salted fish's not there as I had to dig in before the food finished.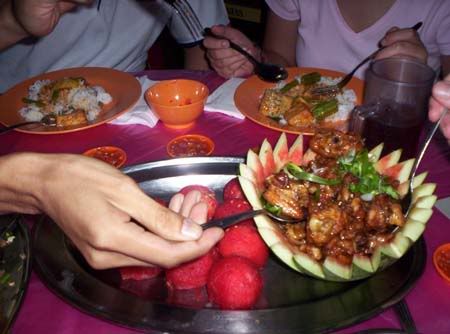 The star: Champagne chicken
On Sunday, I bought 5 packets of Super Ring. And, I willingly played DOTA without any peer pressure (omg!) :P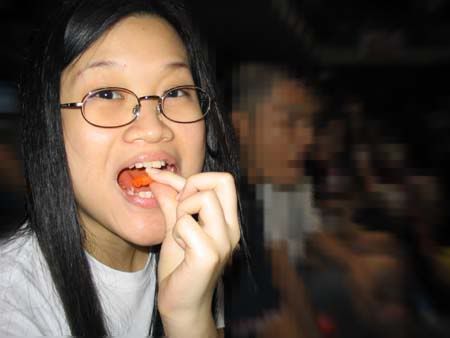 Super Ring is Best. Promote growth of brain cells.
*Kutu Lepak = Loitering Lice